At Refined Lending we often refer to each other as family, and we mean it. We all truly care about one another and strive to help everyone on the team succeed. One of our top core values is giving back to the local communities we work and live in. This is something that is held near and dear to all our hearts. We really love supporting each other as co workers AND supporting our local community. That is where our Refined Difference Project originated from.  Each month we showcase a different RL Family member and donating to a local charity of their choice. We  also provide links and information on how YOU can donate and support them as well!
For January our featured employee is Mike Arvold. Mike has been with Refined from the beginning and is one of the companies top producing loan officers. In August of 2018 Mike's older brother Dave was diagnosed with ALS. Dave was a proud active father, husband, brother, friend and Navy Veteran. The disease progressed very quickly and took away his ability to be self sufficient. He spent the next year living in the VA hospital undergoing treatments to control symptoms of the disease.  In November of 2019 Dave lost his battle with ALS.
Losing Dave was something nobody was prepared for. ALS did not run in the family and he had no early warning signs. Unfortunately ALS has no known cure and funds to keep research going are desperately needed. This is why Mike selected the local ALS Association, Minnesota/North Dakota/South Dakota Chapter as his charity of the month.
Funds raised will go towards:
Continuing the 150+ research projects looking into the causes of ALS in hopes of developing better treatments
Supporting patient services clinics, support groups, equipment lending, and transportation
Leading the way in helping to ensure the ALS community has proper access to care
As an added incentive the Arvold Mortgage Team will be giving away branded merchandise while supplies last for those who donate! The higher the donation the better the giveaway!
Every dollar you donate today helps give ALS patients and families a chance at another tomorrow.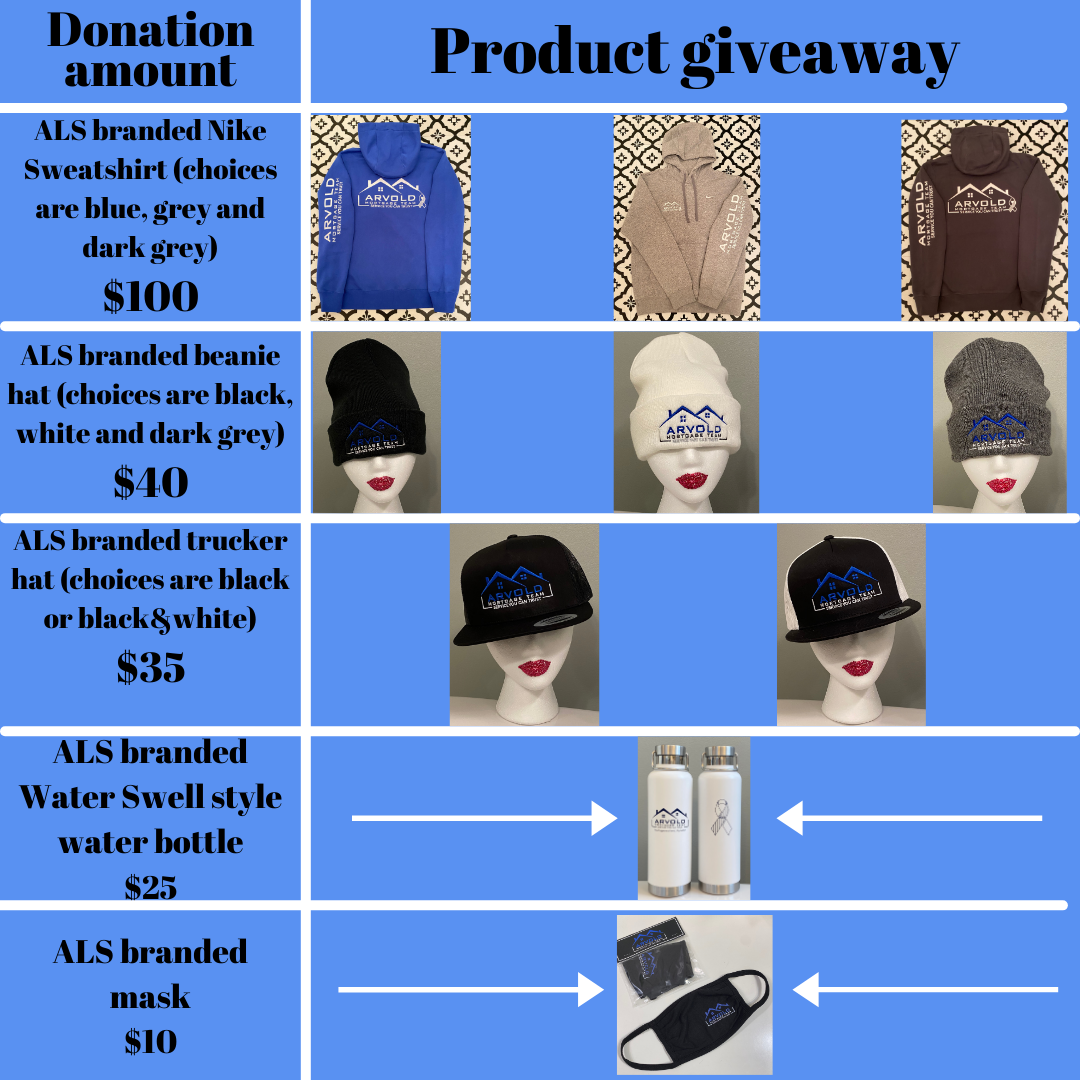 Donors will be contacted by a member of the Arvold Mortgage Team to arrange pick up of the giveaway item(s) from our Blaine, MN location. One (1) giveaway item per donation, while supplies last. Those donating $100+ please comment on the donation site with the size of sweatshirt you would prefer. Sizes are not guaranteed and will be dispersed on a first come first serve basis while supplies last. 100% of donation go to the ALS charity.