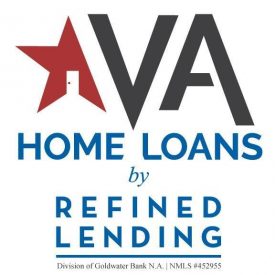 VA Home Loan Rates from the #1 in Customer Service VA Lender
Today's VA Loan Rates:
30-Year Fixed VA Purchase Loan
4.875%       5.298% APR
Points 2
15-Year Fixed VA Purchase Loan
4.8755%      5.298% APR
Points 1.5
What Determines My Rate?
Va loan interest rates are influenced by a variety of factors, including:
Credit Score

Debt-to-Income Ratio

Loan Duration ( 15- or 30-year)

Current Market Conditions
Due to the risk involved in issuing a loan, a good credit score almost always means a lower rate. However, even if you have imperfect credit, you may still have an easier time qualifying for a low rate die to the VA Guaranty.
VA Interest Rate vs APR
It is important to understand the difference between your interest rate and Annual Percentage Rate (APR). The interest rate on your VA loan is the cost you pay each year to borrow the money and does not reflect fees and charges you may incur to get the loan.
The APR on a VA loan is a broader reflection of borrowing costs, including the interest rate and other potential costs and fees associated with getting the loan.
APR can take into consideration the following items:
Interest rate
Origination fees and costs
Closing agent fees
Discount points
Other fees dependent on the specific transaction
Your APR is likely to be higher than your base VA loan interest rate. APR is a tool that can help you compare mortgage offers. But understand that lenders can calculate it differently.
VA Loan Rates and APR calculations valid as of valid as of May 2, 2022, 10:44 AM (CST) and assume a $250,000 home loan over the applicable term for purchase of a single-family primary residence with no down payment, 720 credit score, with applicable charges and fees (including the VA Funding Fee) included, with a 45-day lock period, 181 days of eligible active regular (non-reserves) military service with no service-related disabilities or previous use of a VA Loan and 2 discount points for a 30-Year Fixed VA Loan 1.5 discount point on a 15-Year Fixed Rate. Rate availability will depend upon an individual's credit score and details of the loan transaction. The Interest rates quoted here are subject to change at any time and cannot be guaranteed until locked in by your Mortgage Banker. Rates are pulled weekly from Optimal Blue. All rates and programs subject to change at any time without notice. This is not a commitment to lend. **Refined Lending is not affiliated with or acting on behalf of or at the direction of FHA, VA, USDA or the Federal Government.